Hi!
I'm trying to run SPM functions via nipype in a conda env notebook on a win10 machine.
I can successfully run matlab commands via MCR, which gives me output confirming that SPM12 is found.
import nipype.interfaces.matlab as matlab
mlab = matlab.MatlabCommand()
mlab.inputs.script = 'spm ver'
mlab.run()

Then i set mlab paths:
from nipype.interfaces import spm
matlab_cmd = "opt/MATLAB Runtime/v99/toolbox/spm12_r7771/spm12/run_spm12.sh opt/MATLAB/MATLAB Runtime/v99 script"
spm.SPMCommand.set_mlab_paths(matlab_cmd=matlab_cmd, use_mcr=True)

When i now call any spm function e.g.
spm.SPMCommand().version

i get
ValueError                                Traceback (most recent call last)
 File C:\Anaconda\envs\ConcSpace\lib\site-packages\nipype\utils\spm_docs.py:49, in 
_strip_header(doc)
 48 try:
---> 49     index = doc.index(hdr)
 50 except ValueError as e:

ValueError: substring not found

The above exception was the direct cause of the following exception:

Full error log: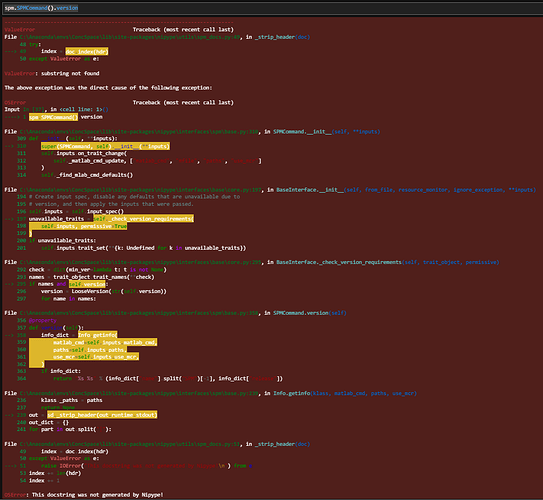 I'm assuming that there's still something off with the correct paths, but i cannot figure out what exactly causes the problem. Anyone knows what might be wrong here?
Thanks!