I am trying to convert the space, orientation and resolution of a single niimg atlas file based on the space, orientation and resolution a template niimg.
For my purposes (reconstruction with qsirecon), atlases must be in the MNI152NLin2009cAsym space, have a resolution of 1 x 1 x 1mm and be oriented to LPS+ (QSIPrep docs). I have the Craddock atlas in "MNI152" space; however, the resolution of the atlas image is 4 x 4 x 4mm, and is oriented to RAS.
I attempted to reregister the atlas to the desired space using FLIRT, with the following command:
flirt -in craddock.nii.gz -ref mni_1mm_t1w_lps.nii.gz -out craddock_lps

The header as inspected with fslhd looks good, the correct orientation and resolution is displayed; however, when inspecting the output atlas with fslview the result is clearly wrong.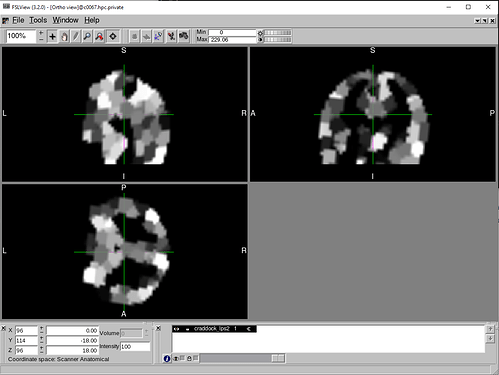 I have searched around a lot for help reregistering atlases to templates but there is very little information anywhere about it. It's mostly about reregistering subjects to the same space that an atlas is in which is not an option in this case.
Is there an obvious step I'm missing or am I just doing it wrong? Any help would be greatly appreciated.
Many thanks,
Rory