Hello everyone,
We are storing large datasets (up to ~ 1 TB) that are subject to frequent enrichments from various contributors, and we need to make and publish reproducible analyses based on these data. It seemed to me that Datalad might help
The idea is to store the data on a storage server part of our lab cluster, but we also want to have a github repository for each dataset, in order to benefit from all the nice features of github including issues, CI, PRs, etc. So this would look like this :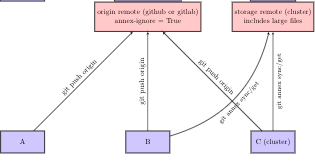 Before anything, since it does not seem people at the lab have an experience with datalad, I'd like some insight in order to setup the system "the correct way".
First, how to allow users to clone/install the github directory and then do datalast get bigfiles/ without having to configure the cluster sibling by hand ? Is there a way to do that besides a setup.sh script or something like that ? (In other words, how to provide all siblings configuration along with the github dataset itself) ?
How to make sure that the github and the storage siblings won't diverge, at least the master branch ? Should we do this with the --publish-depends option of datalad create-sibling-github ?
Can datalad handle branches properly ? What about PRs ?
We would to provide all data in the dataset, including intermediate results that take very long to compute and that other researches will need to reproduce the part of the analysis they're interested in. Should we provide the code to reproduce these intermediate data along with the dataset ?
Should we add the code/.py and ci/.py scripts (to reproduce intermediate and final results and for continuous integration) with datalad add or git add ?
Thank you very much for your attention and time,
Lucas