Dear Fmriprep team,
I ran fmriprep v20.2.4 on two subjects to test my pipeline. I used the following command options:
–participant-label subjectID
–notrack
–use-aroma
–aroma-melodic-dimensionality -80
–nthreads 1
–omp-nthreads 4
–output-space T1w MNI152NLin6Asym fsnative fsaverage -vvv
–error-on-aroma-warnings
–fs-subjects-dir /dir1/freesurfer
–fs-license-file /dir2/license.txt
–work-dir /dir3/
One subject was fine on all levels. However, while the other subject also finished without error, the report shows that there was not really a signal detected.
See the BOLD summary:
See the ICA components:
Perhaps it may be related to the co-registration between fmri and t1 that looks off: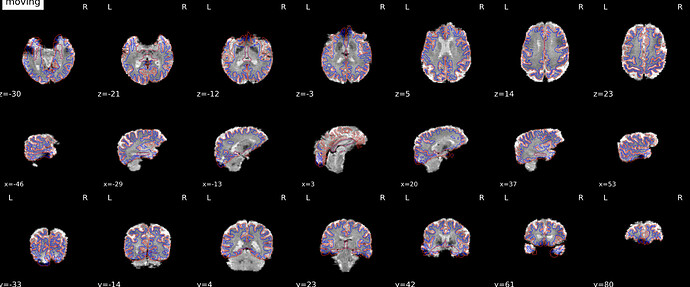 Do you think it is registration related? And if so, any suggestion how I could fix this?
Thank you!
Julie