Hello - First, thank you for this wonderful package. I am running this pipeline on images collected from two scanners (PRISMA and TRIO). The PRISMA images are working just fine. The TRIO images had some problems with reconstruction, and we were actually given the reconstructed files (.hdr/.img) by our MR center. Using the reconstructed TRIO .nii files (and a .json file constructed using heudiconv), I am able to successfully run the pipeline. However, for two out of six of my tasks, there is an extra figure in sub/ses/figures called *_desc-coreg_bold.svg. It seems that this figure shows failed coregistration.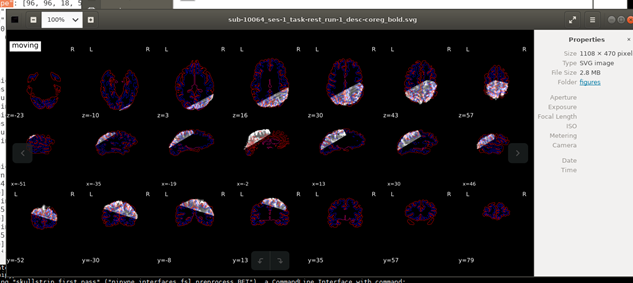 The resulting preprocessed functional nii files look fine, and also the other figures (e.g. _desc-rois_bold.svg). Any ideas why fmriprep would create these files for only two of the runs? Does it indicate that there was an error in the processing? (I do not see any corresponding errors or warnings.)
Additional info, in case it is relevant: As mentioned above, I used .heudiconv (using raw images) to create the .json file and also needed to modify that. The problem had to do with the dimensions of the image (it is multiband x3, and the dimension in dcmmeta_shape was 18, when it should have been 54). Anyway, I believe that I fixed this, but I am not sure if it has something to do with this image.
Thanks!