Hi all.
I am new to fMRI Prep. I've done lots of reading on forums and troubleshooting but can can't resolve an issue I am having.
I'm trying to run fMRIPrep with singularity on a HPC cluster. I have a single anatomical (T1w) image, a multi-echo multi-slice resting state sequence and fieldmaps (2 magnitude images and a phase diff image). I get a warning immediately in the terminal :
1: [WARN] Each _phasediff.nii[.gz] file should be associated with a _magnitude1.nii[.gz] file. (code: 92 - MISSING_MAGNITUDE1_FILE)
./sub-86202065/fmap/sub-86202065_acq-greph_phasediff.nii.gz
The directory tree for each sub is attached.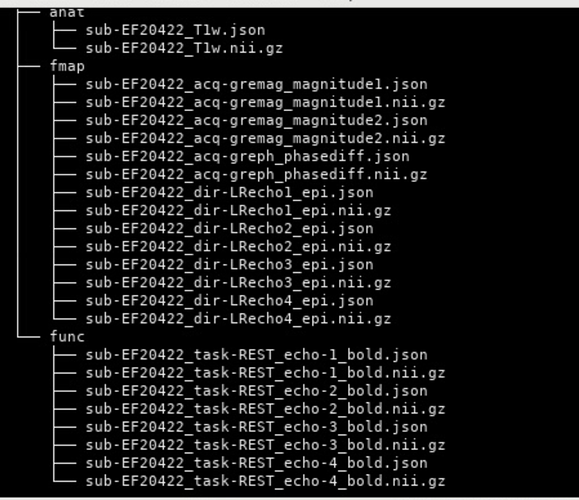 Do I need to manually edit the .json file of the phase diff image to associate it with mag 1? I have already manually edited the .json file for the phasediff image to include the 2 echo times associated with mag1 and mag2 respectively.
Thank you,
rebecca