Long story short, I'm having issues with this registration. The resulting non-identity lta file will lead to a wrong aseg, which generates a wrong refined brain mask.
I went to the working directory and saw that this step uses mri_robust_register to register freesurfer/mri/T1.mgz to sub-xxx_T1w.nii.gz, showing one example below:
T1.mgz and sub-xxx_T1w.nii.gz look like the following: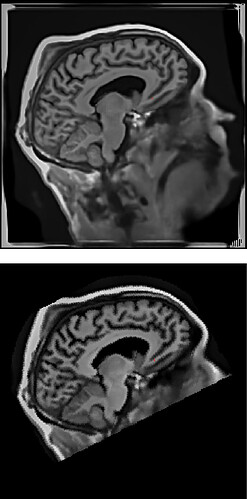 I don't think I can let mri_robust_register generate identity transformation (it should) by tuning its parameters given the truncation of the neck and those highlighted boundaries.
I came across this post. Just curious any reason not to assume the transform is identity as FreeSurfer always work in the native space, even when users pre-run it separately?
Back to this question itself, is there a flag that can be used to skip this registration step or simply force it to use identity?
Thanks,
Andrew