I want to perform a massive univariate analysis to compare structural grey matter images between two groups (patients and controls). I used nilearn's NiftiMasker to smooth and standardize the data. After this, I used nilearn.mass_univariate.permuted_ols to perform voxel-wise contrasts between patients and controls. However, when I create a statistical image (t-values) based on the output from nilearn.mass_univariate.permuted_ols I get a very 'blobby' image with artifacts inside the ventricles and outside the brain: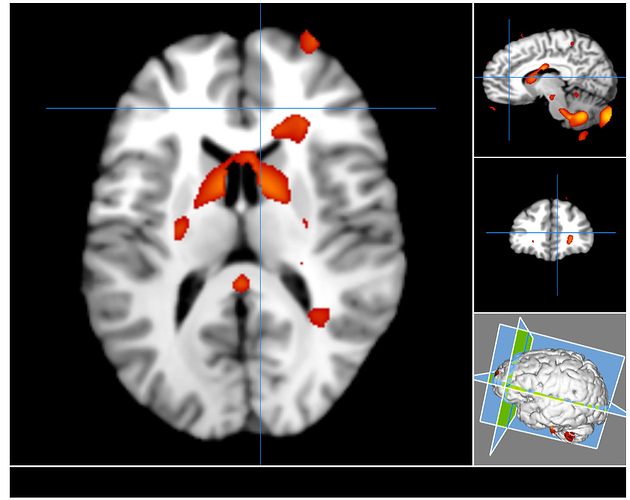 I would like to check if a 'classical' SPM analysis reproduces the artifacts to rule out the possibility that the analysis technique causes these artifacts (to be honest, I am not sure if this should already be clear by the fact how nilearn.mass_univariate.permuted_ols works, or in other words, if it's just not the right tool for this kind of analysis):
I really appreciate the possibility to perform SPM-analyses using Python and nipype, because I do not have access to Matlab on my PC and I also like the approach to have several analyses tools 'under the hood' using only Python. However, I don't find good step-by-step tutorials to perform my analysis and I also don't find the SPM syntax straightforward to read.
So my questions are:
1.) Is nilearn.mass_univariate.permuted_ols the right tool to perform my analysis or should I switch to SPM?
2.) Are there any step-by-step tutorials on how to use the nipype interface to perform SPM-analyses?