Hi everyone!
I'm currently running fmriprep (v21.0.1) for my multi-echo EPI data. However, I've encountered some runs where the alignment of EPI and T1w appeared inaccurate, even though other runs of the same subject data showed decent alignment.
As depicted in the attached image, the visualization for the alignment of functional and anatomical MRI data (surface driven) doesn't look great. Below is the fmriprep command I used.
I am seeking potential solutions to this issue. My initial hypothesis is that it might be related to distortion correction or the varying contrasts of multi-echo images.
Any insights you could offer would be greatly appreciated!!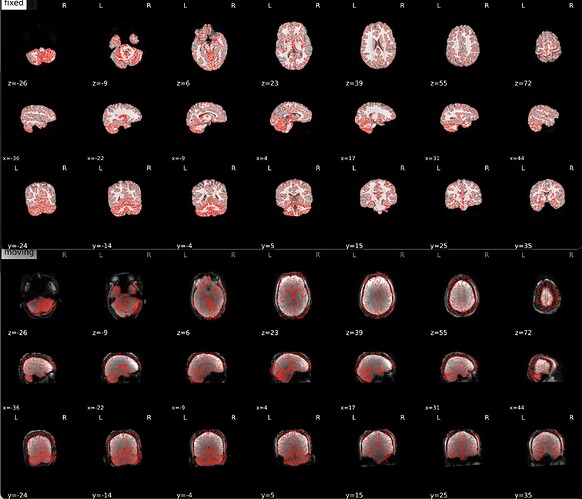 singularity exec \
    --cleanenv --bind ${BIDS_DIR},${WORK_DIR},${FREESURFER_DIR} \
    $FMRIPREP_IMG fmriprep \
    $BIDS_DIR $OUTPUT_DIR participant --participant_label $PARTICIPANT_LABEL -w $WORK_DIR \
    --nprocs 16 \
    --nthreads 12 \
    --mem_mb 60000 \
    --write-graph \
    --dummy-scans 10 \
    --fd-spike-threshold 0.9 \
    --fs-license-file /optnfs/freesurfer/6.0.0/license.txt \
    --fs-no-reconall \
    --skip-bids-validation \
    --random-seed 42 \
    --skull-strip-fixed-seed \
    --resource-monitor \
    --bold2t1w-dof 9 \
    --me-output-echos