Hello Neurostars,
I was looking to exclude participants for an fmri study based on a threshold of 1.35 mm of mean frame-wise motion over a particular run.
Though I originally used the output from mriqc this seemed to disagree with a metric that I was getting from MCFLIRT.
Both MRIQC ( "fd_mean" )& fmriprep ("rmsd") both cite that they implement the algorithm in Jenkinson, et al., 2002. also implemented in fsl's MCFLIRT.
However, the MRIQC output was about 2 times as large as those from MCFLIRT and taking the mean of rmsd from fmriprep. I didn't see anywhere in the MRIQC documentation where it explicitly states how it framewise displacement averaged or what units are output, but I assumed it took the mean in millimeters.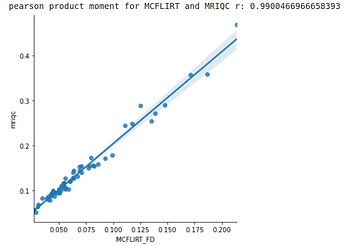 Any additional insight would be appreciated,
Best,
Jeff D