Hi everyone! This week I started playing around with ICA-AROMA and used fmriprep to re-process some old (circa 2014), non-multiband, task-related data collected on a 3T Tim Trio with a 12-channel coil. Surprisingly to me, several runs crashed because ICA-AROMA couldn't find any signal components. I'm running fmriprep v1.1.4 and will upgrade to stop the crashing (https://github.com/nipreps/fmriprep/pull/1467), but I was surprised that the ICA had any trouble because the data from the failed runs doesn't look bad to me. For instance, here's a carpet plot from a run that ICA-AROMA thought had no useful signal in it: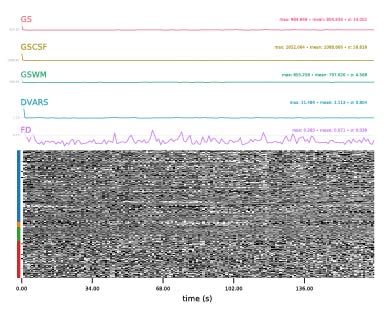 As you can see, there's not a lot of motion and nothing seems obviously amiss, and the registrations and recon-all outputs (not shown) all look fine too. I thus have two questions:
What can I do to address this? There don't seem to be many options for tweaking ICA-AROMA, particularly as implemented in fmriprep, in order to see what could be causing these failures, but I'm totally new to AROMA and pretty new to fmriprep too, so please correct me if I'm wrong. I'm wondering if there is anything I can do so that the ICA will play nice with these data.

Any ideas for why these runs are failing? It's hard to believe that there are no signal ICs here, because each run includes 60 trials of a task where subjects see stimuli, make a choice, press a button, and get feedback for each response. I've analyzed the behavior and it looks good, and a level 3 FEAT analysis on the non-ICA'd fmriprep output yields strong signals in the regions I'd expect to see (this is an RL task and we get signal in accumbens, VMPFC, etc). Perhaps I should just leave well enough alone and stick with the non-ICA'd results, but I'm curious as to why the ICA doesn't like these data . . . I would think I'd at least see ICs that corresponded to activity in visual or motor systems, even if the subject was drowsy or inattentive or something.
Apologies for the book-length message–any feedback greatly appreciated!
Dan