Firstly I'd like to apologize for the bazillion posts I've put up in the past couple of weeks.
Your guys' expertise and correspondence and patience is more helpful than you will ever know. I'm hoping as I get more familiar with this tool I'll be able to help answer more questions then I ask.
My Issue: When overlaying some of my EPIs on my skullstripped T1s in MNI space, there are some problematic boundary issues in some cases and smaller alignment issues in other cases. For all my participants my T1 skullstrip is basically flawless as is my T1 -> MNI alignment. My EPI -> T1 in native space is pretty good although I do see boundary issues on the right and left side. However the issue is most noticeable when you view the normalized EPI data on top of the normalized T1 or MNI as in the following screenshot.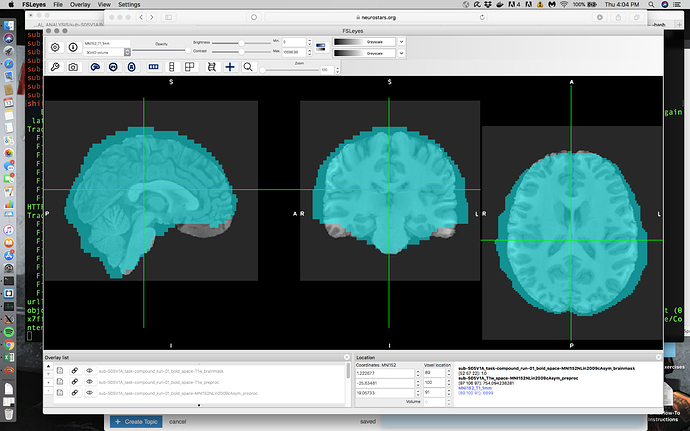 To be honest I'm used to horrendous alignment so this actually looks a lot better than what I normally see without a bit of manipulation. However I'm not sure if this is 'as good as I can expect' or if I can do better; I'm particularly worried because I'm currently getting significant clusters outside of the brain here (posterior-ly). Can alignment be manipulated in FMRIPREP and should it be in this case?
As a ridiculously nuanced follow-up question, I'm not sure how familiar anyone is with AFNI. I've never used ANTs for registration before and had never even seen an .h5 file before using FMRIPREP. As an exploratory measure I wanted to use the T1 image in MNI space created from FMRIPREP (since it was amazing) and concatenate that transform with those created by AFNI for the BOLD data (i.e. 3dvolreg for motion correction and align_epi_anat.py for aligning the EPI to the original T1). I have no idea how to access ANYTHING in the .h5 file so just searched blindly until I found this post. Running these commands on my 'T1w_target-MNI152NLin2009cAsym_warp.h5' file does indeed give me 12 values that look like a transformation matrix so I used cat_matvec to concatenate this with the .1D files from 3dvolreg and align_epi_anat.py. Although this made sense to me logically the result was basically a vertical line. I suppose my question is, is there any way to use the transformation matrices outputted from FMRIPREP in other analysis softwares? I'm mostly doing this because I was solely an AFNI user before FMRIPREP and as I transition to the latter finding parallels in AFNI's processing stream for as many steps as possible is helping me teach myself the new pipeline. So I'm really sorry for this bizarre question.
I can provide any data, review files, or anything else for the alignment question if that is necessary.
As always thanks for the amazing the fun new tool.
Lauren