Dear experts,
We are using tedana for denosing on our MBME data (TR=1s, TE=12ms, 29.75ms, 47.5ms, 3mm isotropic), but from our data, we found for most of the subjects, the variance explained by the accepted components is very low (around 10%), as you can see the variance explained by rejected components could be >90% in the following histogram.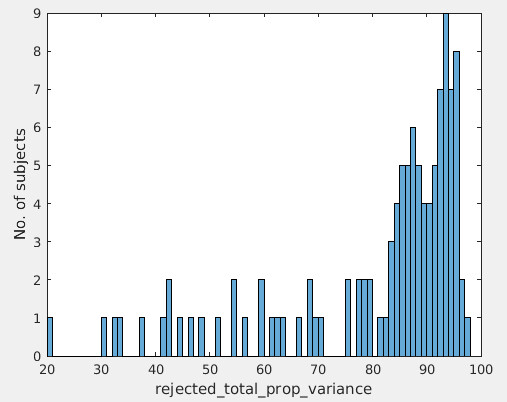 The main concern of us is whether tedana removed some of the neural signals as noise. For example, some components also contains signals with frequency we are interested (0.009~0.08Hz), although they also contain noise signals. We are wondering if these components should be kept. We currently used the defualt settings of tedana. We are wondering if there are some parameters that could be tuned to have more accepted components, besides manually selecting the components. If yes, should these thresholds vary with different cohorts?
We also checked the FC matrix and the DMN seed-based FC map of one example subject (>95% rejected variance). The FC patterns are obviouse, but we are still not sure if the neural singnals all remains. Is there any QC step for the ICA denoising?
Could you please advise? Your reply is much appreciated.
Thanks and regards,
Xing