Dear fmriprep experts,
I have run fmriprep on my data and requested fsaverage as an output space. When I read the resulting gifti files into matlab and visualise them I find missing data in the temporal lobe of the right hemisphere (see attached image).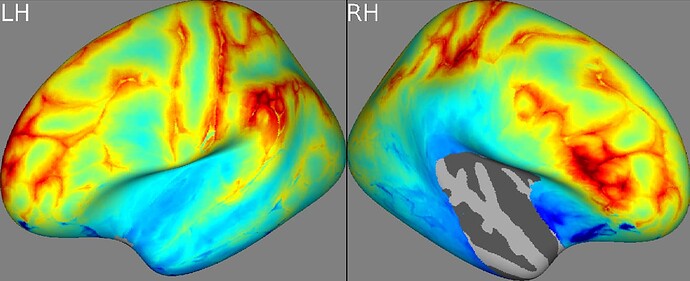 The procedure for reading into matlab is as follows…
lh=gifti(filename); %(this gifti read tool is from NITRC: GIFTI: Tool/Resource Info)
lh=lh.cdata
rh=gifti(filename);
rh=lh.cdata;
data=[lh;rh];
The data present in other vertices seem fine, and the dimensions of the read in data appear correct for fsaverage (327684x140 [vertex x time]).
When I attempt to load the fsaverage gifti files into freeview it fails. Is there something more I should be doing to these files to make them usable? What viewer can natively read/visualise them?
In case it's useful, here is my fmriprep call/command
fmriprep-docker $datapath/fmriprep_nifti $datapath/fmriprep_nifti/sub-$name/derivatives participant --participant-label $name --fs-license-file /home/chris/cisc2/shared/fs_license/license.txt --use-aroma --output-spaces MNI152NLin6Asym:res-2 MNI152NLin2009cAsym fsaverage T1w
Version info: fMRIPrep v21.0.0
Many thanks,
Chris