Hello,
While a 2017 paper comprehensively addresses this topic in neuroimaging (ref below), I'm still a bit confused about specific terminology of testing/training/validation sets–and the concept of nested cross validation. Maybe my confusion is shared among others (or not!
).
@GaelVaroquaux, @raamana , Engemann DA, Hoyos-Idrobo A, Schwartz Y, @bthirion (2017): Assessing and tuning brain decoders: Cross-validation, caveats, and guidelines. Neuroimage 145:166–179.
Specifically, regarding the following figures: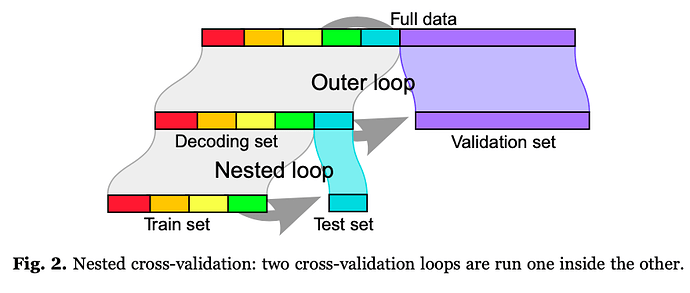 I understand the workflow of Figure 1. For example, here an SVM performance can be taken as the average accuracy on the test set of a 6-fold split (average of 6 accuracy measurements). The downside here is that "the amount of regularization becomes a parameter adjusted on data".
However, in Fig. 2, I'm not entirely sure how model performance would be assessed. According to the paper "the data are repeatedly split in a validation set and a decoding set to perform decoding. The decoding set itself is split in multiple train and test sets with the same validation set, forming an inner "nested" cross-validation loop used to set the regularization hyper-parameter, while the external loop varying the validation set is used to measure prediction performance".
Is the idea here to take the SVM model with the maximum accuracy across the 5-folds (in the nested loop), and to test it (ignoring the four others) on the validation loop? Also, is there a standard number of times or data volume to split the data in "validation sets"? Would the model performance be the average across those multiple validation sets accuracies?
Apologies if this is specifically stated elsewhere in the paper.
Many thanks,
Tom