Hi,
I am running a decoding analysis with NiLearn for the first time. The process seems fine but I am running into trouble with the image output of the decoding.
Here is what the output of my process looks like: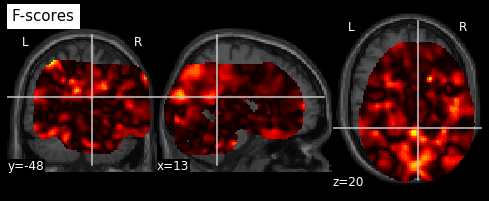 This is a map of pvalues associated with the classification for a single subject. (I am performing a within-subject decoding).
All subject's output images are similarly shifted.
I have used 2 differents masks: the MNI template as a mask, and an average of the subject's masks from the univariate analyses (single-trial estimates).
Both give me skewed brains. The starting masks are fine, and when I view the initial masking procedure, there's nothing off.
I suspect the inverse_transform procedure that flubs things? Any ideas?
Thank you.