Hi guys,
we are using using nipy.SpaceTimeRealigner as a node in our nipype workflow before applying melodic.
Without using the realigner the 9th IC clearly resembles the stimulus induced activity as follows (upper figure).
Whereas, if we do use the SpaceTimeRealigner method, the temporal dependency on the stimulus gets lost and also does not occur in any of the other ICs (lower figure). If we just use the spm.realign method, this does not happen and stimulus reflecting activity is preserved.
Does anybody know why this is or how to fix it?
Thanks a lot in advance and all the best!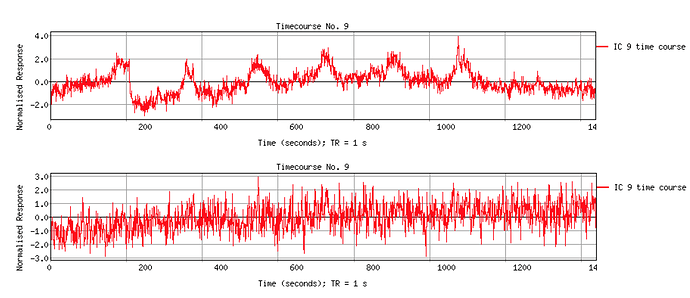 realigner = pe.Node(interface=nipy.SpaceTimeRealigner(), name="realigner") realigner.inputs.slice_times = "asc_alt_2" realigner.inputs.tr = tr realigner.inputs.slice_info = 3 #3 for coronal slices (2 for horizontal, 1 for sagittal)