Hi, kinda basic question here:
I have the situation as in this example: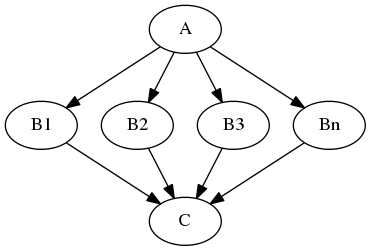 Except that I have two outputs instead of four. Anyhow, my two outputs that comes from node A should go to fsl's BET node and then to a DAtasink Node I wanna write it like this:
A = Node(A(), name=A)
BET= MapNode(BET(), iterfield = ['in_file'], name = B)
datasink = Node(DataSink(base_directory = output_dir,
                         container= "datasink"), name="datasink")

wf_test= Workflow(name=test, base_dir = output_dir)
wf_test.connect([(A, BET,[('out_file1','in_file'),
                         ('out_file2','in_file') ]),
                [(BET, datasink ,[('out_file', 'skullstripped') ])
 
              
                ])

But I cant connect both out_file1 and out_file2 to the BET node. How do I get it to work?
Sincerely, Jesper