After preprocessing with fMRIprep, there are minor differences in the orientation information of functional images, which, although small, lead to errors when using SPM for further analysis.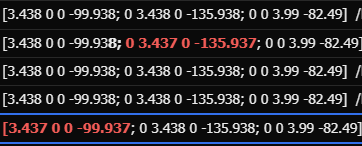 (This is part of the orientation information)
I'm puzzled , as the portion with differences accounts for only 16% of the total images, but I used the same command to process all the images.
Summary of what happened: Orientation information is different between subjects' images
Command used (and if a helper script was used, a link to the helper script or the command generated): fmriprep-docker /…/Bids dir. /…/output dir. participant --participant_label xxx --fs-no-reconall -w /…/working dir. --use-syn-sdc --fs-license-file /…/license.txt
Version: 23.1.3
Environment (Docker, Singularity, custom installation): Docker
Data formatted according to a validatable standard? Please provide the output of the validator: yes!
Relevant log outputs (up to 20 lines):
Screenshots / relevant information: