Hello everyone,
I wondered if I could ask a question about tedana and masks? I'm using #tedana to run some multi-echo resting state data.
I've piloted the first 10 participants through fmriprep for pre-processing, then into tedana for denoising, and then transformed the tedana output to MNI space. I've checked here before that I'm collecting the right files for T1 to MNI and bold to T1 and the warp (thanks @JulioAPeraza!).
The transformed tedana output that we're getting generally looks to be different from the fmriprep MNI output - when we thought that these would look the same (as below - fmriprep output is in blue and transformed tedana output in red).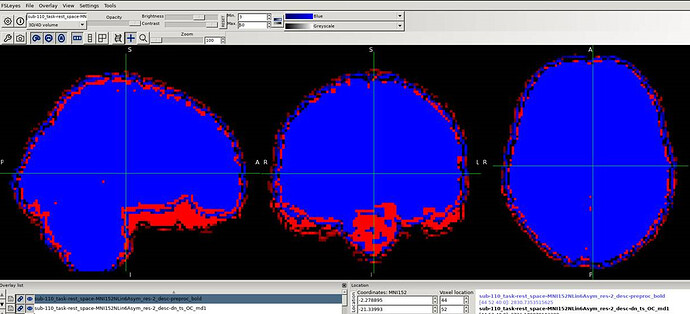 As you can see the transformed tedana output is more inclusive.
We're wondering if that might relate to the fact we used the echo1 mask in tedana, which is bigger than the mask used for the fmriprep output. We thought using that would be a good idea to ensure we don't lose any voxels from the first echo image in tedana.
Does that sound possible? If so, is this a problem / should we do something different? Or are we ok to proceed?
Thanks