I am trying to use a custom atlas to calculate connectivity.
I have already resampled my atlas to the LPS+ and same FOV as described in the [documentation]
(Reconstruction — qsiprep version documentation).
However, I don't understand why and how to zero-out the sform. Is it necessary, and how do I do it? (I have checked the Neurostar and github, but didn't found a clear answer.)
Now, I am trying to replicate the qform and sform of the QSIPrep atlas template using below code. However, I am still not sure if it is correct.
The QSIPrep atals:
filename aal116MNI_lps_mni.nii.gz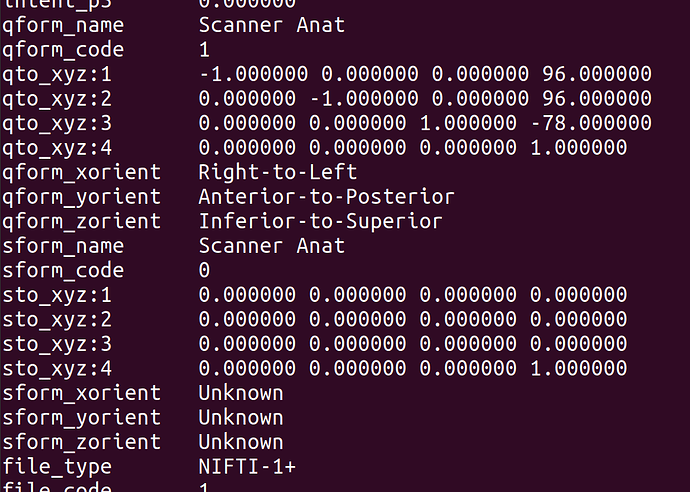 My code:
import nibabel as nib
qsi_atlas = '/mnt/workdir/DCM/Docs/Reference/qsirecon_atlases/aal116MNI_lps_mni.nii.gz'
qsi_atlas_img = nib.load(qsi_atlas)
sform = qsi_atlas_img.header.get_sform()
sform_code = qsi_atlas_img.header._structarr['sform_code']
print(sform)
print(sform_code)

my_atlas = r'/mnt/workdir/DCM/Docs/Mask/DMN/DMN_atlas/DMN_atlas_lps.nii.gz'
dmn_img = nib.load(my_atlas)
print(dmn_img.header.get_sform())
qform = dmn_img.header.get_qform()
print(qform)

# zero_out the sform
dmn_img.header.set_sform(sform, int(sform_code))
dmn_img.header.set_qform(qform, int(1))
dmn_img.to_filename('/mnt/workdir/DCM/Docs/Mask/DMN/DMN_atlas/DMN_atlas_lps_zero-

After this, I got the sform and qform in my atlas as below: