Hi,
After running fmriprep, I found that the storage order of the *_preproc file is changed from radiological to neurological. I'm using the output_spaces option with the atlas MNI152NLin6Asym (both res:2 and res:1) that is the same as FSL. Also, I skip the t1w processing using the option: --skull-strip-t1w skip (I did the skull stripping in a separate pipeline).
When I import in fsleyes the corresponding MNI space (1 mm) I got the warning message about the usage of different orientations/fields of view. Not only th eorientation is changed, but also the QForm/SForm matrices between the MNI space in the FSLDIR and the preproc file are slightly different (91 instead of 90), please see the attached files.
Orientation/SForm/QForm information for the func file after fMRIprep: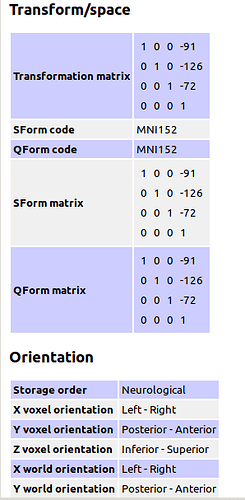 Orientation/SForm/QForm information for the MNI template after fMRIprep: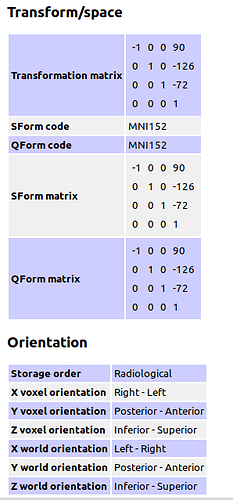 The images I feed to fmriprep are all in radiological convention (both functional and anatomical data).
What is the issue here?
I hope that someone can help me on this matter
Thank you.
Best,
Riccardo