While looking through visual reports generated by MRIQC, I found that many subjects' T1w images had these white fillings in areas that should be empty. These are especially pronounced in images with low WM2MAX.
What are these white spots? Are they artifacts? If so, what causes them? Will they affect my results (coregistration, functional connectivity)?
A slice from a subject T1w with particularly low WM2MAX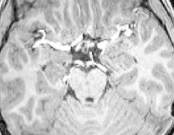 Another slice, same subject. The white fillings are seen throughout most of ventral slices.