Hi there,
I am using Heudiconv to transform my data into BIDS. Unfortunately, my output is variable although I do not change anything in the heuristic file. Sometimes, I get one phasediff file and two magnitude files and sometimes not.
My heuristic file looks like this: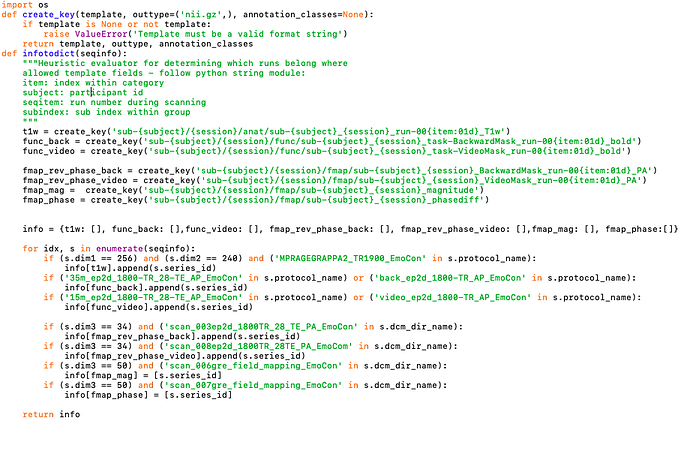 And sometimes my output looks like this:
sub-003_ses-001_magnitude_heudiconv718_e2_Eq_1.nii.gz
sub-003_ses-001_magnitude1.nii.gz
sub-003_ses-001_magnitude2.nii.gz
sub-003_ses-001_phasediff.nii.gz
sub-003_ses-001_magnitude1.json
sub-003_ses-001_magnitude2.json
sub-003_ses-001_phasediff.json
and sometimes like this:
sub-004_ses-001_magnitude.nii.gz
sub-004_ses-001_phasediff.nii.gz
sub-004_ses-001_magnitude.json
sub-004_ses-001_phasediff.json
Does anyone have any idea what I'm doing wrong? Can I still use the single magnitude file for preprocessing or do I need both?
Best regards,
Julia