Trying to load first-level contrasts that were generated with an SPM workflow.
contrasts = ['01']
cont_list = []
for contrast in contrasts:
    con_file_list = glob('./results/l1spm_resp/_subject_id_*/contrastestimate/con_00'+contrast+'.nii')
    con_file_list.sort()
    try:
        con_dat = Brain_Data(con_file_list)
        cont_list.append(con_dat)
    except:
        print(contrast)

Results in this resampling warning:
.conda_envs/py37_dev/lib/python3.7/site-packages/nilearn/image/resampling.py:602: RuntimeWarning: NaNs or infinite values are present in the data passed to resample. This is a bad thing as they make resampling ill-defined and much slower.
  fill_value=fill_value)

Printing cont_list gives:
[nltools.data.brain_data.Brain_Data(data=(238955,), Y=0, X=(0, 0), mask=MNI152_T1_2mm_brain_mask.nii.gz, output_file=[])]
And plotting cont_list[0].iplot() gives: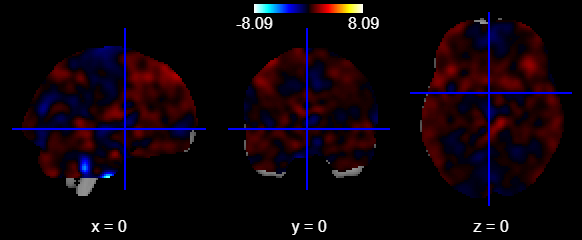 This is my first time working with first-level analyses, and I'm not sure what is generating these resampling RuntimeWarnings, in addition to whether this type of output looks reasonable. Would appreciate any help. Thanks!