Hello,
I have an experiment that scans participants on two dates (2 sessions) with 4 runs in each session. I want to derive trial-wise beta-estimates based on the LS-S approach from this paper.
So I set up a GLM for each trial with (i) one condition for the current trial and (ii) another condition that includes all the other trials. Just for one run, the design matrix looks as follows: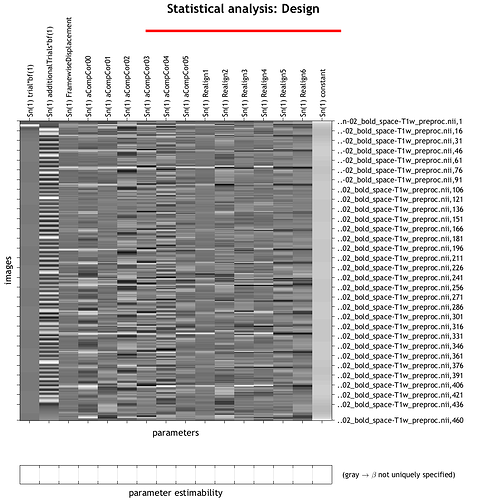 So you can see the one trial in column one and all the other trials in column two. So far so good.
My problem now arises as I want to include the other runs and sessions in this GLM too, so in total 8 runs in one GLM for one trial. This means that the condition in column one will be empty for all the other runs in which the trial does not happen, i.e. the onset and duration vector is empty. SPM will not let me pass empty onsets in the model specification (I am using nipype).
Has anybody come across a similar problem? Is it possible to have different conditions for each session? Currently I also receive an error if I try to do this, but it might be my error.
For reference: this is what the design matrix should look like with 8 runs: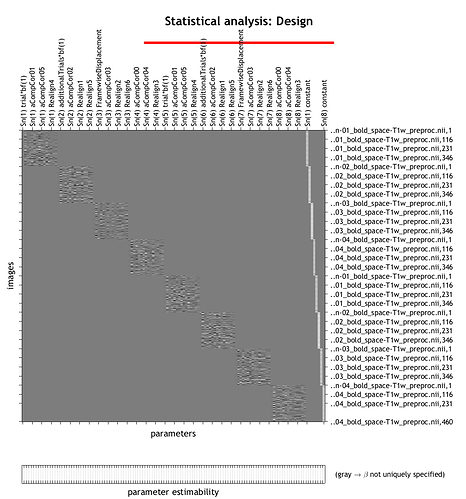 So for session 1, run 1 and trial 1, the first column of run 1 would include one onset, but the other runs would not have any onset for that condition.
Thanks in advance!