Hello,
I've been using ICA-AROMA to denoise my data, and am a little concerned about what I'm seeing in the reports. A quick background regarding my data: TR=420ms, voxel size=3x3x3mm, and multiband factor = 8. Given previous concerns regarding the use of ICA-AROMA on multiband data, I'm following @mmennes recommendation ([here](Testing different noise models output from fmriprep - unclear results with ICA-AROMA and here) of limiting the number of components (i.e. --aroma-melodic-dimensionality 100). Given my low TR, I'm also skipping slice time correction (as suggested by Smith et al., 2013). Below is a screenshot of part of the AROMA report for a subject's run: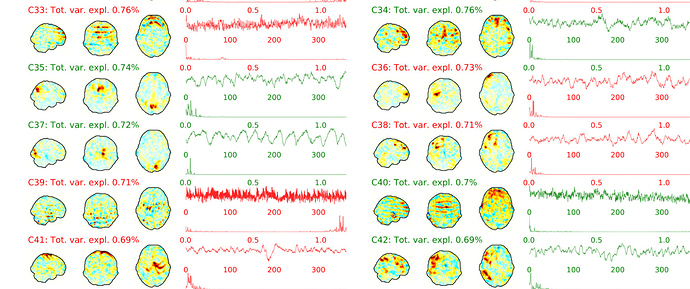 Components 33 and 40 seem to have some "stripping" (there are other components that have this "stripping" going on as well, I just didn't get all of them in the screenshot), and I worry that this is due to me not performing slice time correction on data. Is this a valid concern, or am I misunderstanding things? I'm still trying to wrap my head around interpreting these reports, so I could be wrong.
Thanks for the help.
Dan