Hi there,
We've been using fmriprep with docker for a while but now we are trying to get it running on our HPC with Singularity. Although fmriprep (version 20.1.1) finishes successfully (or so it claims), it is somehow unable to get the T1w segmentation correct (and that produces a cascade of failures downstream). On the bright side the images look pretty with that purple background…
See here the bad segmentation: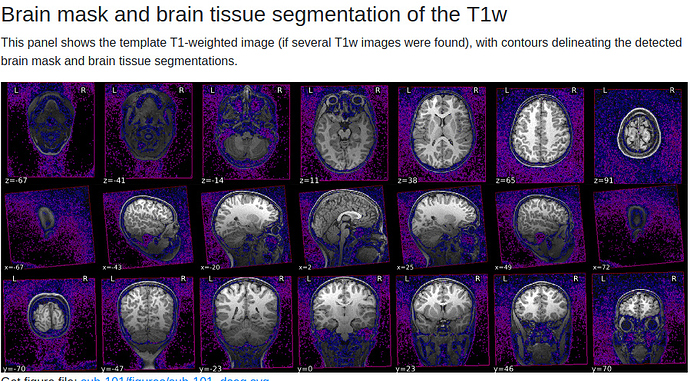 Also here the full html report:
And this is a my last (minimal) call; the ones that include the functional images also fail:
    singularity --debug run \
    -B /path-to-home/:/home/fmriprep \
    -B /path-to-BIDS/:/data \
    -B /path-to-output/:/output \
    -B /path-to-license/:/lic \
    -B /path-to-temp/:/working_dir \
    -B /path-to-templates/:/templateflow \
    --home /home/fmriprep \
    fmriprep-20.1.1.simg \
    /data /output participant \
    --notrack \
    --output-spaces anat \
    --anat-only \
    --fs-no-reconall \
    --fs-license-file /lic/license.txt \
    --participant-label 101 \
    --work-dir /working_dir

Any idea of what could be the cause?
Javier.