Summary of what happened:
Hi!
I run a simple 1 subject dataset through fMRIprep-rodents, and get terrible results. I don't even know where to begin trying to dissect what has gone wrong. Hope someone can help!

Command used (and if a helper script was used, a link to the helper script or the command generated):
singularity run --cleanenv fmriprep-rodents-latest.simg ~/Desktop/thesis/data/rsfMRI_example_bids/ ~/Desktop/thesis/data/output_dir/ participant
Version:
latest
Environment (Docker, Singularity, custom installation):
singularity
Data formatted according to a validatable standard? Please provide the output of the validator:
I have had problem with the fact that my anat data was T2w. It was mentioned by someone on one of my earlier posts that the BIDS validator expected T1w for anat. I have since tried running it with --skip-bids-validation and T2w as filename (which is indeed what the data is), but I get the same poor results as I get here, where I have tried to include include both T2w and T1w anat. The latter is simply a copy of the former.
Relevant log outputs (up to 20 lines):
Screenshots / relevant information:
Here is a screenshot of the first part of the resulting html file: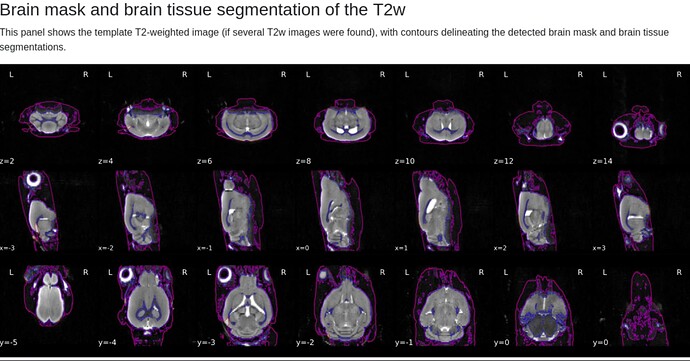 Here is the first part of the report: