Hi There,
I am trying to denoise 2 movie-watching fmri runs using Tedana (latest version 23.0.1). However, in many cases ME-ICA fails to converge or does not find BOLD components or has very few components - depending on what options I select for --tedpca / --tree.
I am using fmriprep for preprocessing. The minimal preprocessed functional runs (with slice time correction and susceptibility distortion correction) are used as inputs to Tedana.
Any feedback or potential solutions would be very much appreciated

---
This is how I am running Tedana: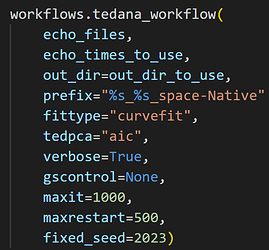 For the --tedpca flag, I have tried:
kundu
kundu-stabilize
aic
---
I am also getting a WARNING error on all subjects (regardless of whether there was convergence or BOLD components identified) that looks like this:


I will upload the enitre output files for subjects that I ran with the --tedpca "kundu" option
sub-012_run-1 = converged
sub-013_run-1 = did not converge
I'm not sure if this has anything to do with the lack of convergence and BOLD components found for my data?
---
---
---
Here are the sequence parameters for my 2x movie-watching runs (6:26 and 9:09 minutes):
Orientation Axial Oblique; FOV (mm): 240 x 240 x 144;
Slice thickness (mm): 3mm;
Slice gap (mm): 0;

#Slices

51;
Slice coverage (mm): 144;
Matrix: 80;
Voxel size FxPxS (mm): 3 x 3 x 3;
Reconstruction matrix: 80; TR (ms): 2000; TE-1 (ms): 12; TE-2 (ms): 25; TE-3 (ms): 37;
Flip angle (deg): 77;
Echoes: 3;
Multiband factor: 4 SENSE 2.
---
tedana_kundu_tedpca_sub-013_run-1.txt (6.6 KB)
tedana_kundu_tedpca_sub-012_run-1.txt (25.7 KB)
---
sub-012_run1 html report